Petri Dish Wrapper
MultiWRAP™ Model 200
The MultiWRAP™ Model 200 Petri Dish Wrapping machine is a continuous flow wrapping system with throughput capacities designed to be on par with best in market, high-speed filling systems to ensure maximum efficiency of your process. The MultiWRAP™ Model 200 can wrap petri dishes with diameters from 55mm to 150mm with the same machine. When integrating with other ONLINE Engineering systems, bidirectional communication and full upstream to downstream recipe capabilities are possible.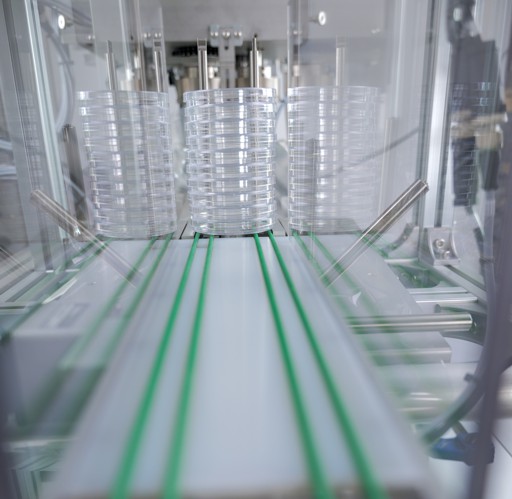 Operator Interface System includes an intuitive, all-in-one operator panel with touch screen control. Fully upgradable controls with MultiVPN remote troubleshooting capabilities. Machine controls designed for faster resets after stoppages.

Seamless integration with upstream systems System is designed to be integrated inline with filling machine without the need for a right-angle cross conveyer after the filling machine, optimizing space savings and overall process reliability. Complete interconnectivity and 2-way communication with ONLINE Engineering equipment such as filling systems, printing and labeling systems, and media preparators.
Process Flexibility Available standard modules include capability to wrap stacks of petri dishes in a 1x10 (laydown) and 2x5 petri dish (upright) configurations with other configurations available upon request. Ability to wrap petri dishes from 55mm and 150mm in diameter with a single machine. Compatible with majority of heat sealable films. Film roll positioned at the bottom of system for easy and safe operator replacement.

System Specifications
Film width: up to 18"
Film roll core diameter: 2"
Footprint dimensions: 77" long x 39" wide
Facility Requirements: 110/220 VAC, 50/60 Hz electrical feed; Compressed air, clean non-lubricated, 80 psig
REQUEST PRODUCT INFORMATION