High-Speed Test Tube Filling Machines & Vial Filling Machines
MultiFILL™ Model 109
The is a fully automatic test tube filling machine which automatically supplies test tubes from a hopper or vibratory bowl, presents caps from a vibratory bowl feeder, quickly and precisely fills the test tubes, and tightens the caps. The operator maintains the bulk supply of test tubes and caps. This system accommodates test tubes and vials of varying dimensions via the use of optional change parts.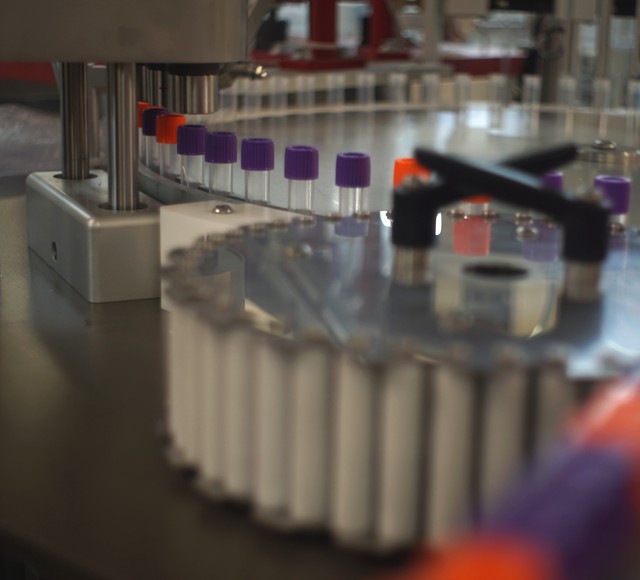 System Certifications All ONLINE Systems are CE marked.

Easy-to-load hopper

Model 109 is standard equipped with ONLINE's proprietary precision peristaltic pump(s).
Cap tightening is handled automatically and is equipped with a torque sensor to ensure adequate torque.

All ONLINE systems are made in the USA and are shipped with a one-year warranty. Phone and email support is available for the life of the test tube filling machine.
Bead Feed
A dispense station for agitation media can be added to drop a preset number of beads into the vial prior to the torque station.
Gas Purge
A gas purge can be added to the system to inject gas into the test tube on either side of the dispense station.
Printer Integration
A station can be added to accommodate a customer supplied ink jet print head.
Labeler Integration
A labeling system can be added to the MultiFILL™ to allow for inline application of pre-printed labels. Hot foil code printing is also available.
Bottom-Up Filling
This function is useful for reducing froth in broths and other sensitive applications. The nozzle is lowered into the test tube/vial where the dispense is initiated. As the dispense continues, the nozzle is lifted. Dispense parameters and nozzle movement are adjustable from the HMI.
Peripheral System Integration
When used with a MultiPREP™ media preparator or MultiPRINT™ print station, information can be shared between the devices.
Emergency Spare Parts Packages and Maintenance Kits
Maintaining the proper inventory of emergency spare parts and maintenance supplies helps to minimize costly downtime. Adding a spare parts package or maintenance kit to your new system order helps to protect your investment from day of delivery.
Service Contracts
Service contracts for installation, training, or periodic maintenance visits are available upon request.
REQUEST PRODUCT INFORMATION