Dipslide Filling Machine
MultiFILL™ Model 112
This fully automatic dipslide filling machine transfers dipslides from an infeed rail, quickly and precisely fills, transports dipslide on a belt conveyor along the drying tunnel, inverts the dipslide and repeats the process for the second side of the dipslide. Completed dipslides exit the system at the operator end of the system via the outfeed rail. This system accommodates dipslides of varying dimensions via the use of optional change parts.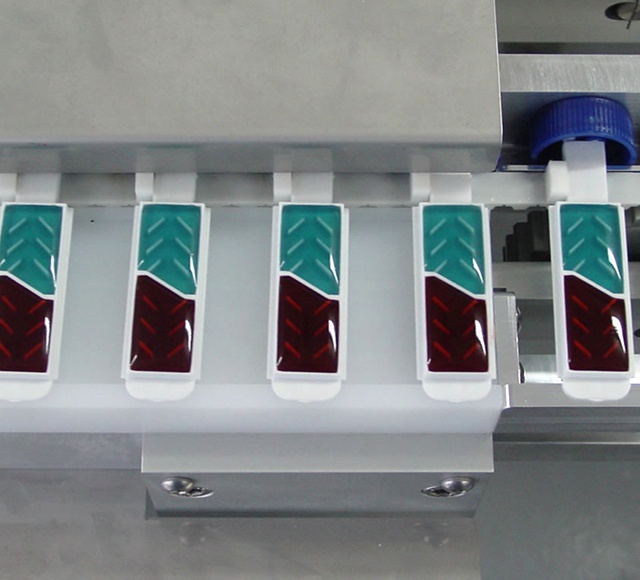 System Certifications All ONLINE Systems are CE marked.

Infeed rail is easy to load, and the infeed station is co-located with the outfeed to allow for single-operator production.

Model 112 is standard equipped with ONLINE's proprietary precision peristaltic pumps.
Sterile cooling tunnel with HEPA protection

The system is mobile for ease of integration into facility workflow.

All ONLINE systems are made in the USA and are shipped with a one-year warranty. Phone and email support is available for the life of the dipslide filling machine.
Split Cavity Dispense
A second pump assembly can be added to accommodate slides with split cavities on one or both sides.
Peripheral System Integration
When used with a MultiPREP™ media preparator or MultiPRINT™ print station, information can be shared between the devices.
Emergency Spare Parts Packages and Maintenance Kits
Maintaining the proper inventory of emergency spare parts and maintenance supplies helps to minimize costly downtime. Adding a spare parts package or maintenance kit to your new system order helps to protect your investment from day of delivery.
Service Contracts
Service contracts for training or periodic maintenance visits are available upon request.
REQUEST PRODUCT INFORMATION