Automated Media Preparator
MultiPREP™ Model 250
The MultiPREP™ Model 250 media preparation and sterilization system is a mobile, steam-heated media preparator available in sizes ranging from 30 to 500 liters. These pressurized vessels provide agitation and sterilization using a magnetically coupled design and can be connected directly to any filling system via silicone supply tubing.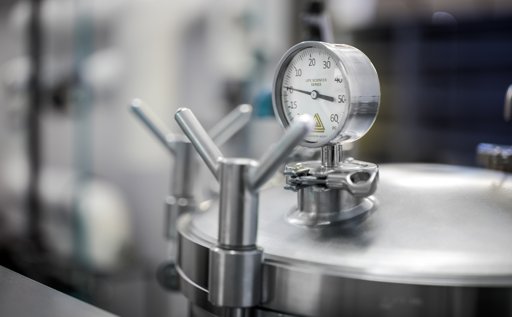 Operator Interface The system includes an intuitive, all-in-one operator panel with touch screen control for all process parameters. Time/Temperature or F0 sterility value process control is standard, with recipe storage to retain heating profiles for various products (over 100 recipe capacity). After the sterilization cycle is complete and the product has reached the desired "cooled" temperature, the system will cycle to maintain a preset holding temperature as long as the unit is connected to an adequate electrical supply. RPM control is integrated into recipes, eliminating the need for manual potentiometer adjustment.

Data Logging Real-time trending data is displayed on the touchscreen for easy reference. Data acquired can be logged to SD, USB, or a web server storage location (IIOT).
Construction The vessel body has a polished 316L stainless steel interior and piping is stainless steel. The electrical enclosure and all cable work are IP66 rated. The agitator is bottom mounted and magnetically coupled.

System Certifications All media preparators are ASME Code Certified standard. Other certifications are available to meet regional requirements.

All ONLINE Engineering MultiPREP™ Model 250 media preparation systems are made in the USA and are shipped with a one-year warranty. Phone and email support is available for the life of the machine.
Dual Dispense
Incorporates a second dip tube to increase available rate of flow for high demand production lines.
Non-Contact Media Level Monitoring
Displays the level of media currently in the media preparator.
HMI Upgrade
Increase the size of the touch panel. Standard operator panels include a 7-inch touch screen which may be upgraded up to 12-inch touch screen.
Consumables, Emergency Spare Parts Packages and Maintenance Kits
Maintaining the proper inventory of emergency spare parts and maintenance supplies helps to minimize costly downtime. Adding a spare parts package or maintenance kit to your new system order helps to protect your investment from day of delivery. Consumables packages, including spare supply hoses, are also available.
Service Contracts
Service contracts for service or periodic maintenance visits are available upon request.
Translation services available for all documentation and system interface components.
REQUEST PRODUCT INFORMATION